The President of the European Council, Herman Van Rompuy, visited EUMMs information desk at the EU Open Day in Brussels on 04 May.
President Van Rompuy enquired about the current security situation in Georgia and the missions daily monitoring activities.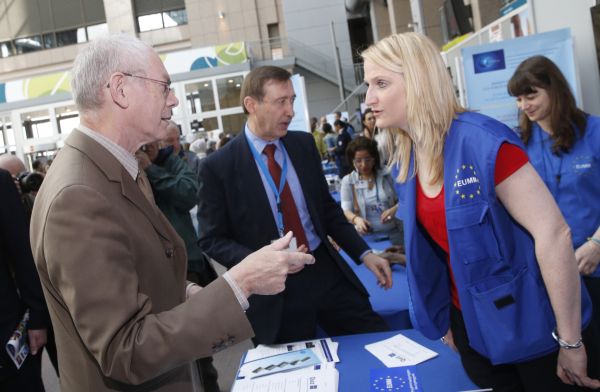 Alongside colleagues from other civilian and military missions, such as EUPOL Afghanistan, EUPOL Congo, EULEX Kosovo and EUCAP NESTOR, EUMMs Press and Public Information Unit provided visitors with an overview of the European Unions role in the service of peace.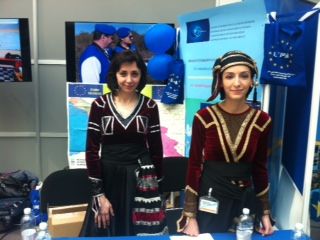 Visitors participated in a quiz consisting of questions about the Missions mandate and structure, as well as more general questions about Georgia, its geography and culture.
On 05 May, EUMM was present at "Europe Village", together with EUPOL Congo and EUPOL Afghanistan, to continue to inform citizens about the Common Security and Defence Policy (CSDP) of the European Union.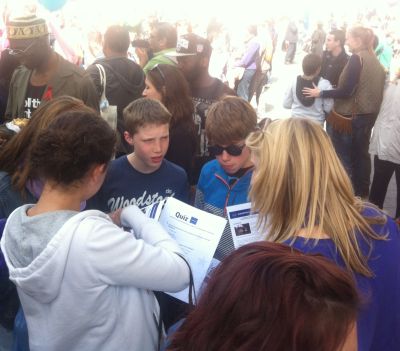 Within the framework of its information activities at the EU Open Day and "Europe Village" on 04 and 05, EUMMs Press and Public Information team participated in a series of meetings with colleagues from HR Catherine Ashtons Spokesperson Service, from the Civilian Planning and Conduct Capability (CPCC), the Crisis Management and Planning Directorate (CMPD) and the Press Office of the Council of the European Union.