On 20 December 2016 the Delegation of the European Union to Georgia and the EU Monitoring Mission (EUMM) awarded the 2015 winners of the EU Prize for Journalism.
The EU Prize for Journalism, which was launched in 2012 by the EU Delegation, is the first of its kind in Georgia, which recognises works that have contributed to promoting a better understanding of the values of the European Union and reflect high standards of journalistic ethics and professionalism.
In its bid to promote ethical, fair and prejudice-free conflict reporting, EUMM, for the third consecutive year, awarded the Special Prize for Peace Journalism. This year's winner is Nino Chibchiuri with her piece titled "
Doctors of the Conflict Region are Building the Bridges of Health
" published by Women Connecting for Peace – the Voice of Change.
Ms. Chibchiuri will be given an exciting opportunity to participate in a one-month fellowship at the headquarters of the Institute for War and Peace Reporting (IWPR) in London.
"Peace journalism should ideally give voice to all parties, at all levels. From decision makers to the populations affected in their livelihoods. It is an essential aim of peace journalism to actively promote peace. That is: to highlight or even propose initiatives for cooperation and conflict transformation. Peace Journalism is trying to point to solutions – rather than only illustrating problems. The EU Monitoring Mission in Georgia, in accordance with its mandate, strives to build confidence between the conflict parties, and among the conflict affected populations. That is what we have been doing here since 2008. We view peace journalism as an essential tool for bridging divides, promoting understanding and ultimately achieving conflict resolution"
- Deputy Head of EUMM Erik Hoeeg told the gathered audience in his opening remarks.
"This award means a lot to me and it encourages me to continue my work with even greater vigor"
– Ms. Chibchiuri told the Deputy Head of EUMM as he congratulating her on the achievement. She also added that the award is a rather pleasant surprise since it was very unexpected.
The other winners of EU Prize for Journalism 2015 are:
Best investigative story in print or online media
Zurab Vardiashvili
- "Children of Poverty"
Best investigative TV and/or Radio coverage
Lia Toklikishvili
(co-author Maia Gogoladze) - "Town of the gold-scarified"
Best online or print blog
Anuna Bukia
- "The diary of a cancer patient"
D. The most informative online media
www.chai-khana.org
Best documentary photo reflecting EU values
Daro Sulakauri
- "Early Marriages"
For more information about the EU Journalism Prize visit:
www.euprizejournalism.ge/#!home/mainPage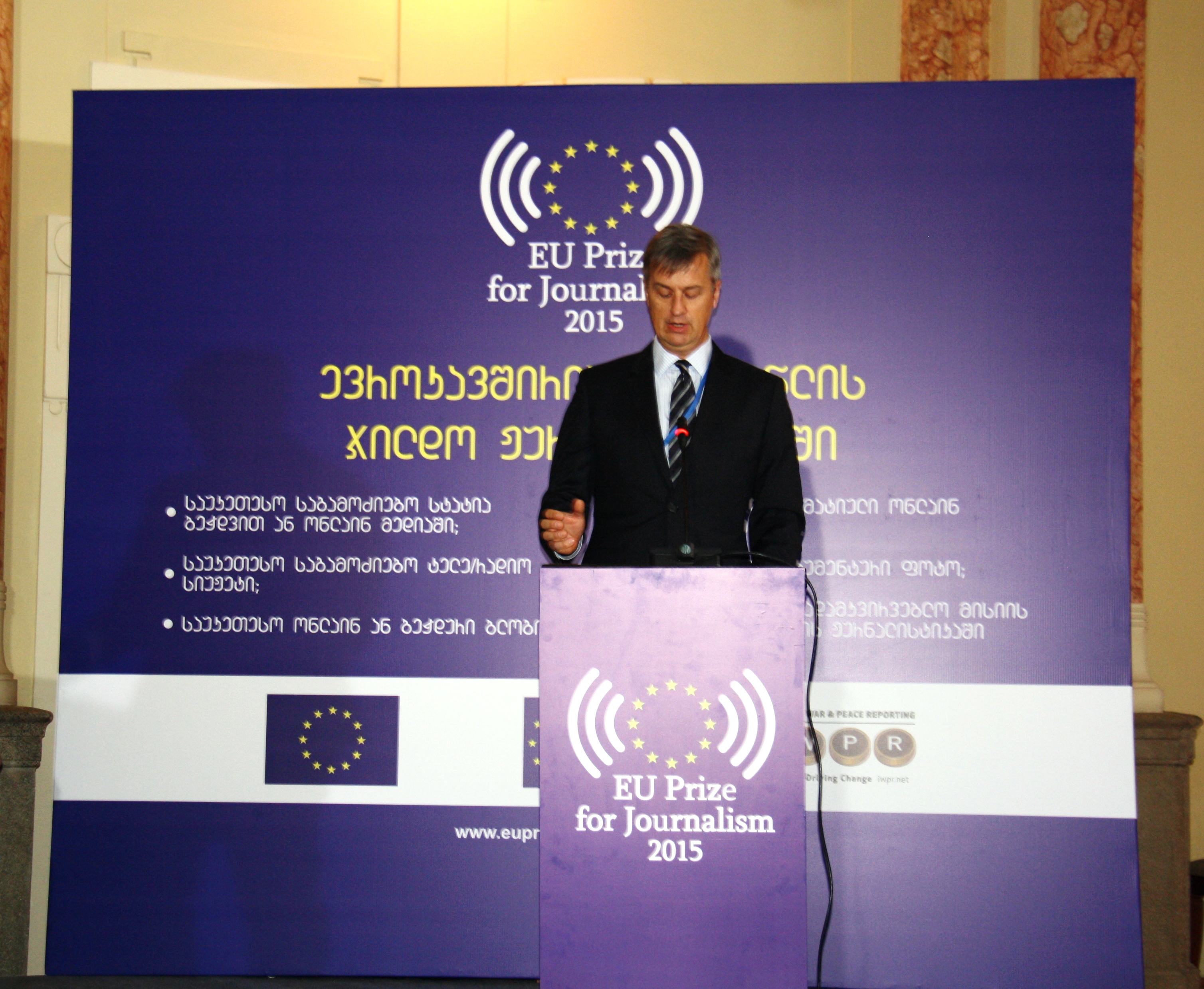 Deputy Head of EUMM Erik Hoeeg addresses the audience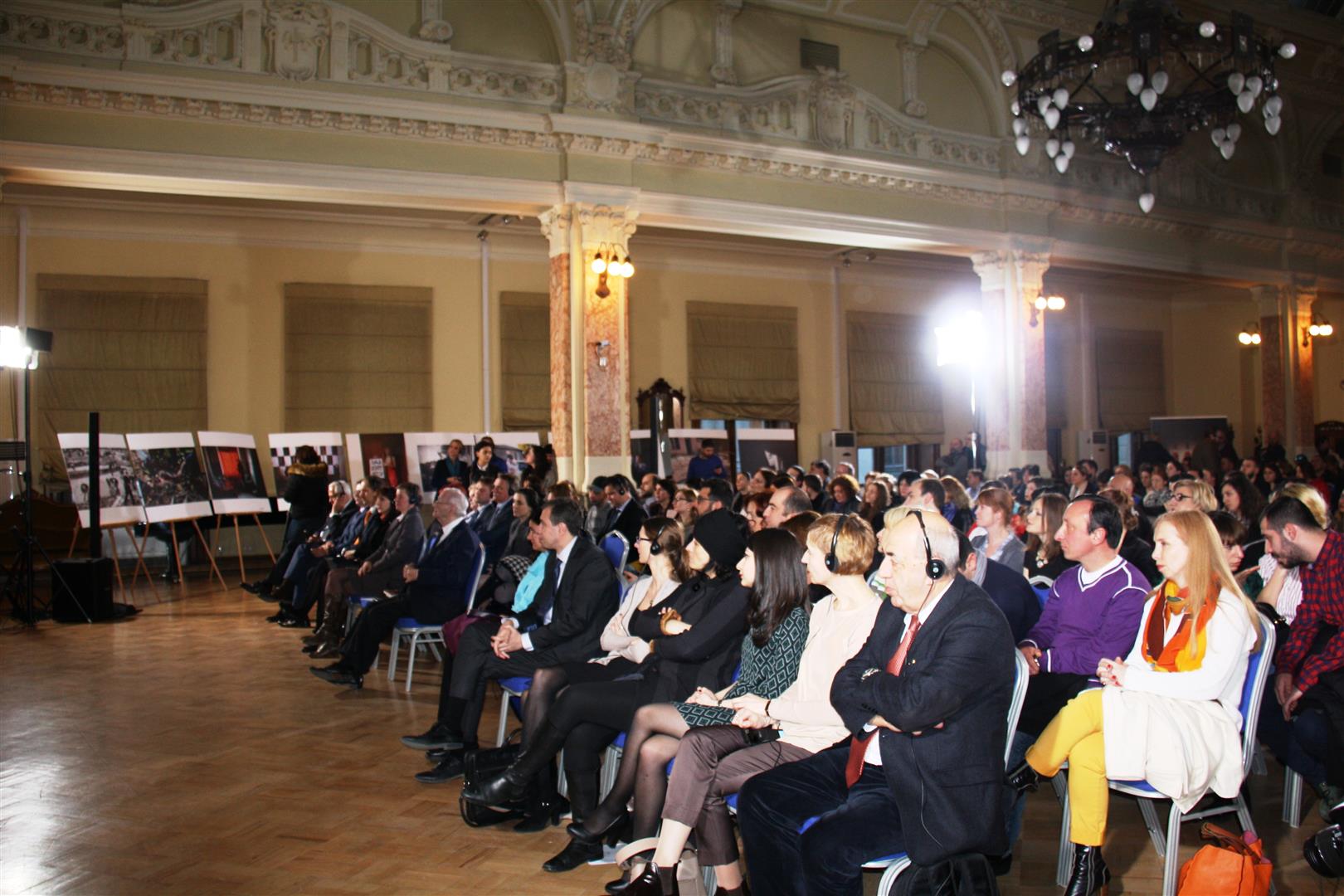 The audience waits in anticipation as the winners are about to be announced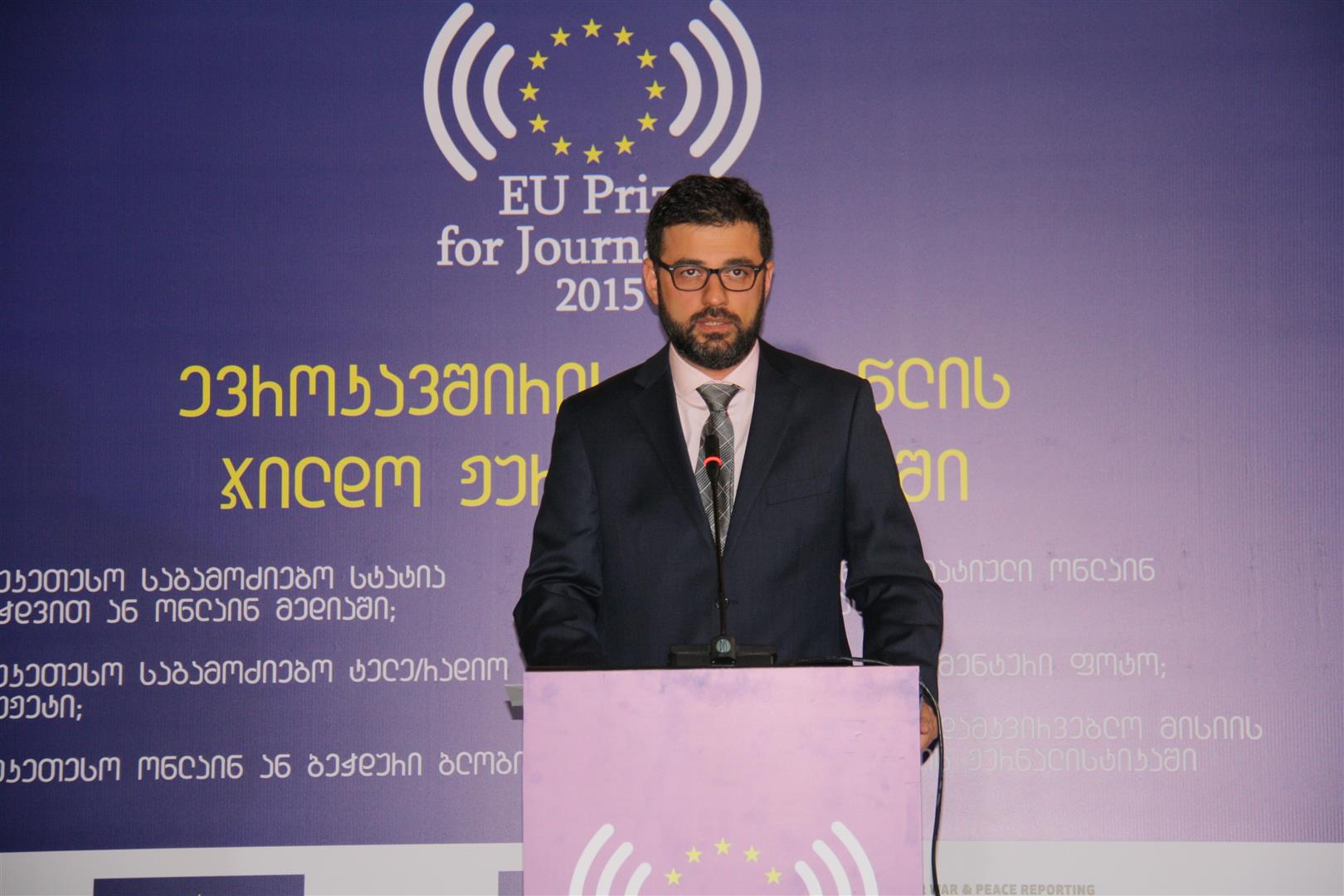 Beka Bajelidze, Director of IWPR's South Caucasus Program
announces the winner of EUMM Special Prize for Peace Journalism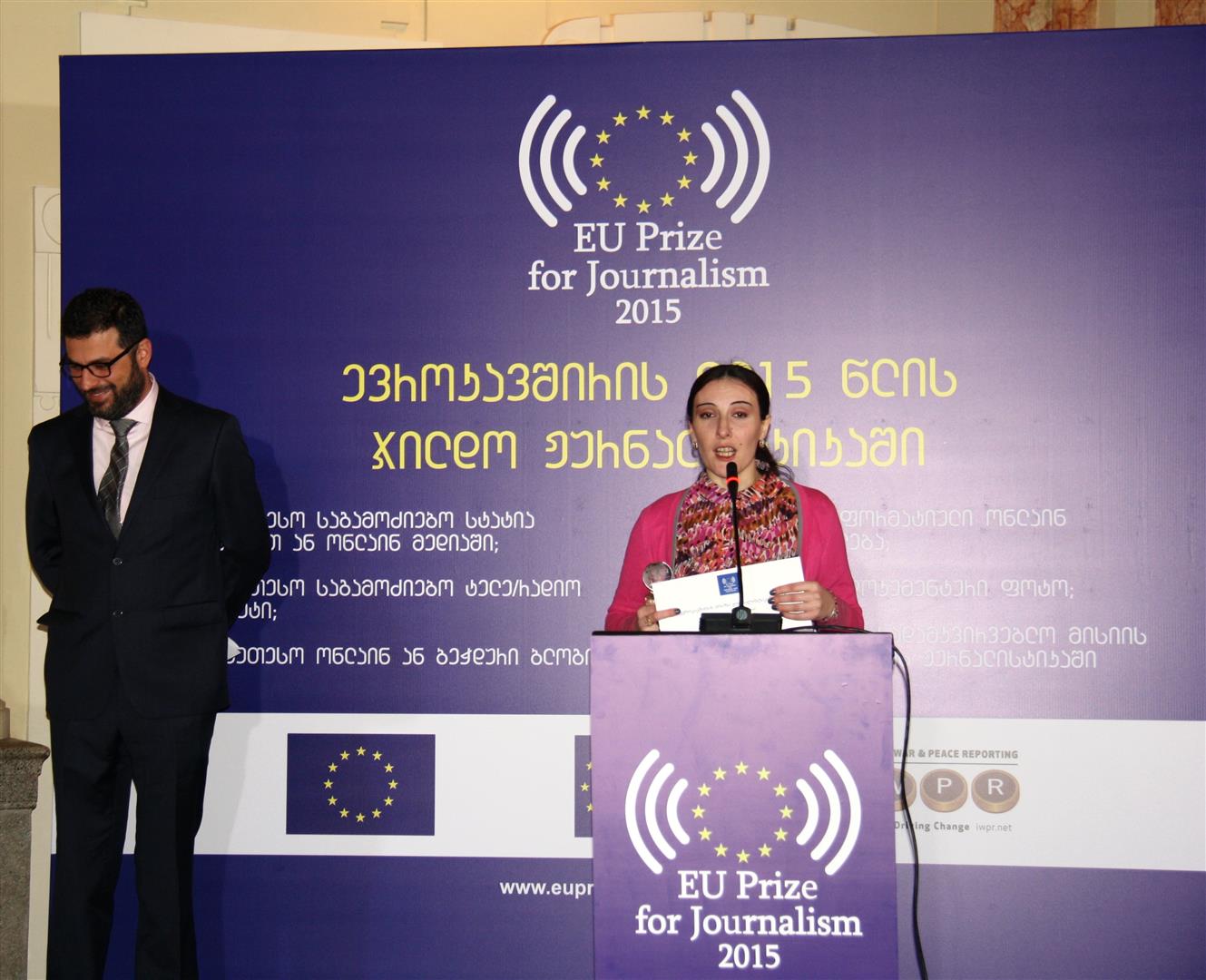 Nino Chibchiuri receives EUMM Special Prize for Peace Journalism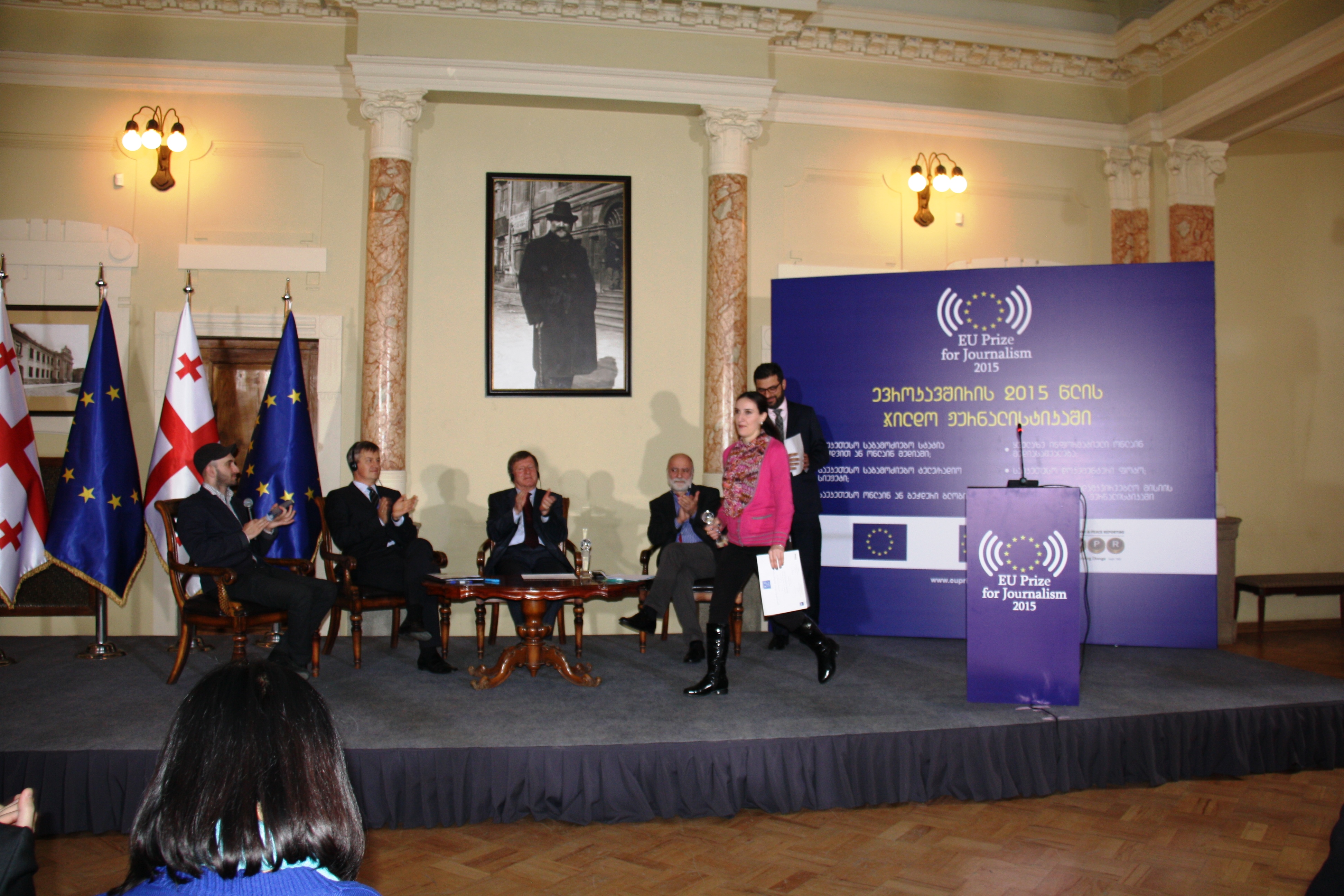 Round of applause for Nino Chibchiuri as she walks off the stage