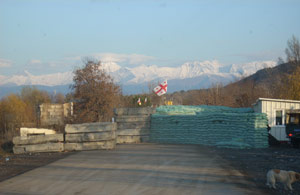 The Head of the EU Monitoring Mission, Ambassador Hansjörg Haber, has today met in Ergneti with a Russian delegation led by Vice Commander of the Army Lt General V G Yevnevich.
The meeting took place in the framework of the ongoing Geneva talks and is part of EUMM's efforts to put in place a joint law enforcement mechanism between all the relevant authorities along the Administrative Boundary Line.
Both sides expressed their concerns about the situation in the areas adjacent to the South Ossetian boundary line and stressed the importance of full compliance with the agreements of 12 August and 8 September.
It was agreed that further meetings will take place, with a view to including representatives from the Georgian Government and the de facto South Ossetian authiorities.