On 29 January 2019, the EU Monitoring Mission (EUMM) and the Delegation of the European Union to Georgia (EU Delegation) held an Award Ceremony for the winners of the 'EU Prize for Journalism' 2018 in Tbilisi.
The 'EU Prize for Journalism' was launched in 2012 by the EU Delegation and is the first of its kind in Georgia. The prize recognises works, which have contributed to promoting a better understanding of the values of the European Union, and reflect high standards of journalistic ethics and professionalism.
The EUMM awarded the prize for the 'Special Prize for Peace Journalism' for conflict-sensitive journalism which contributes to confidence building and peace. The EU Delegation awarded the winners in six categories covering print, broadcast, online, and photo journalism.
The EUMM 'Special Prize for Peace Journalism' was introduced in 2013 and is one of the most important categories in the overall 'EU Prize for Journalism'. This is the sixth consecutive year of the award. The term 'peace journalism' encompasses best practices of journalism and is awarded to the best conflict-sensitive journalistic work, contributing to confidence building and peace in the context of armed conflict in Georgia.
The EUMM seeks to promote fair, ethical, balanced and prejudice free reporting in the region. The EUMM partner in this award is the Institute for War and Peace Reporting (IWPR), based in Tbilisi.
This year's winner is journalist Nika Gablishvili with a piece titled "'Zardo, and its hope Luda". He works for DIA TV in Gori. The prize will give him the opportunity to participate in a one-month fellowship at the headquarters of the IWPR in London.
Previous winners have been:
•
2016 Gvantsa Doluashvili
The Head of the EUMM in Georgia, Mr. Erik Høeg, comments, "Through this award we want to encourage reporting of a high professional standard on conflict issues as well as journalism that builds bridges between divided communities – thereby contributing to reconciliation and conflict resolution. Nika Gablishvili has given a very precise insight into the situation in villages such as 'Zardo' (Zardiantkari) and the challenges people are facing at the Administrative Boundary Line".
Other finalists in the EUMM Special Prize for Peace Journalism were Ms. Kristina Marabyan and Mr. Zurab Balanchivadze. Each received an "Honourable Mention" for their excellent entries.
For more detailed information on the EU Journalist Prize, visit this
link
.
Further coverage on the award ceremony is available on EUMM social media accounts: Facebook, Twitter, Instagram and Flickr.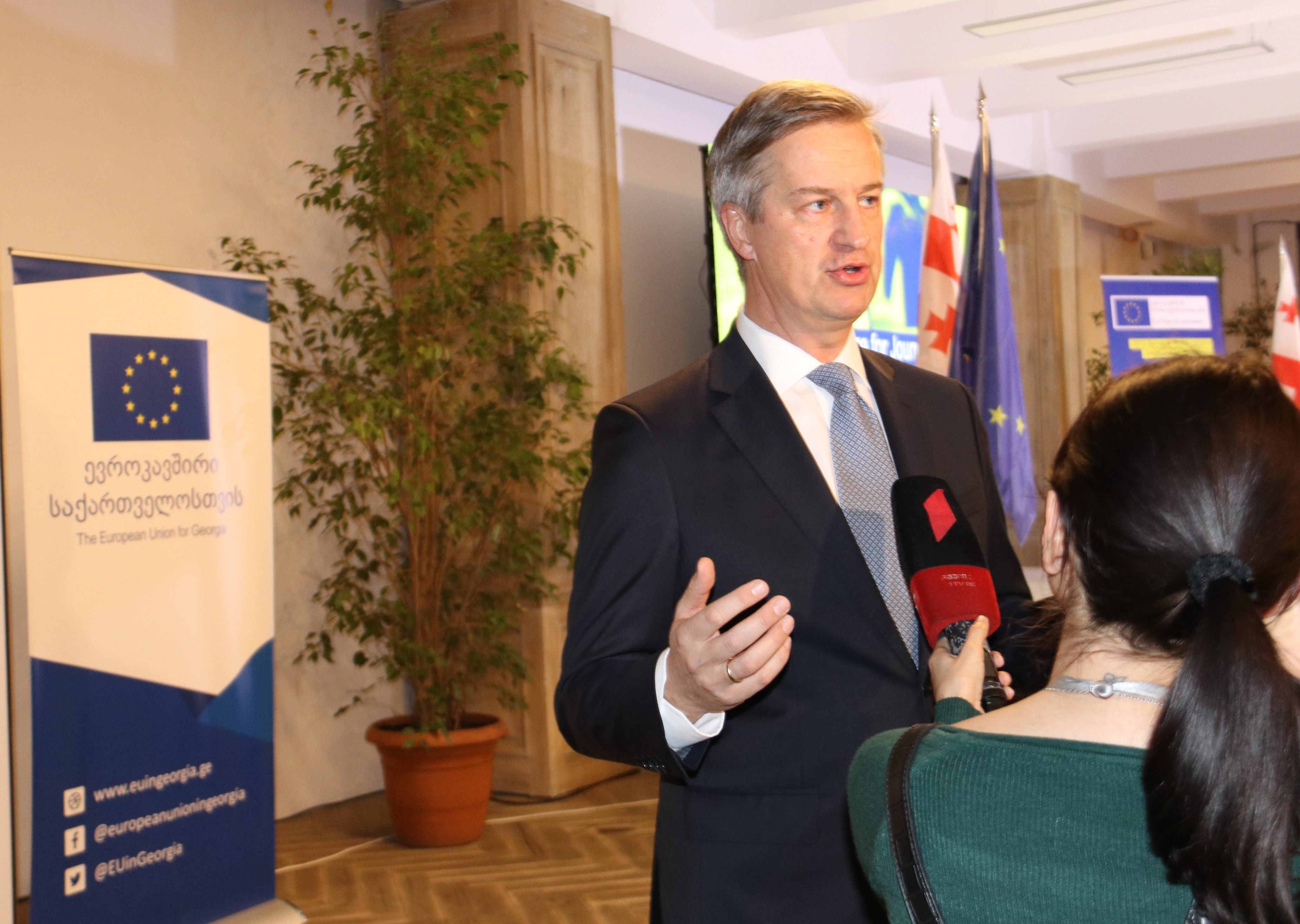 Head of EU Monitoring Mission, Erik Høeg highlights the importance of the Prize in his interview with local media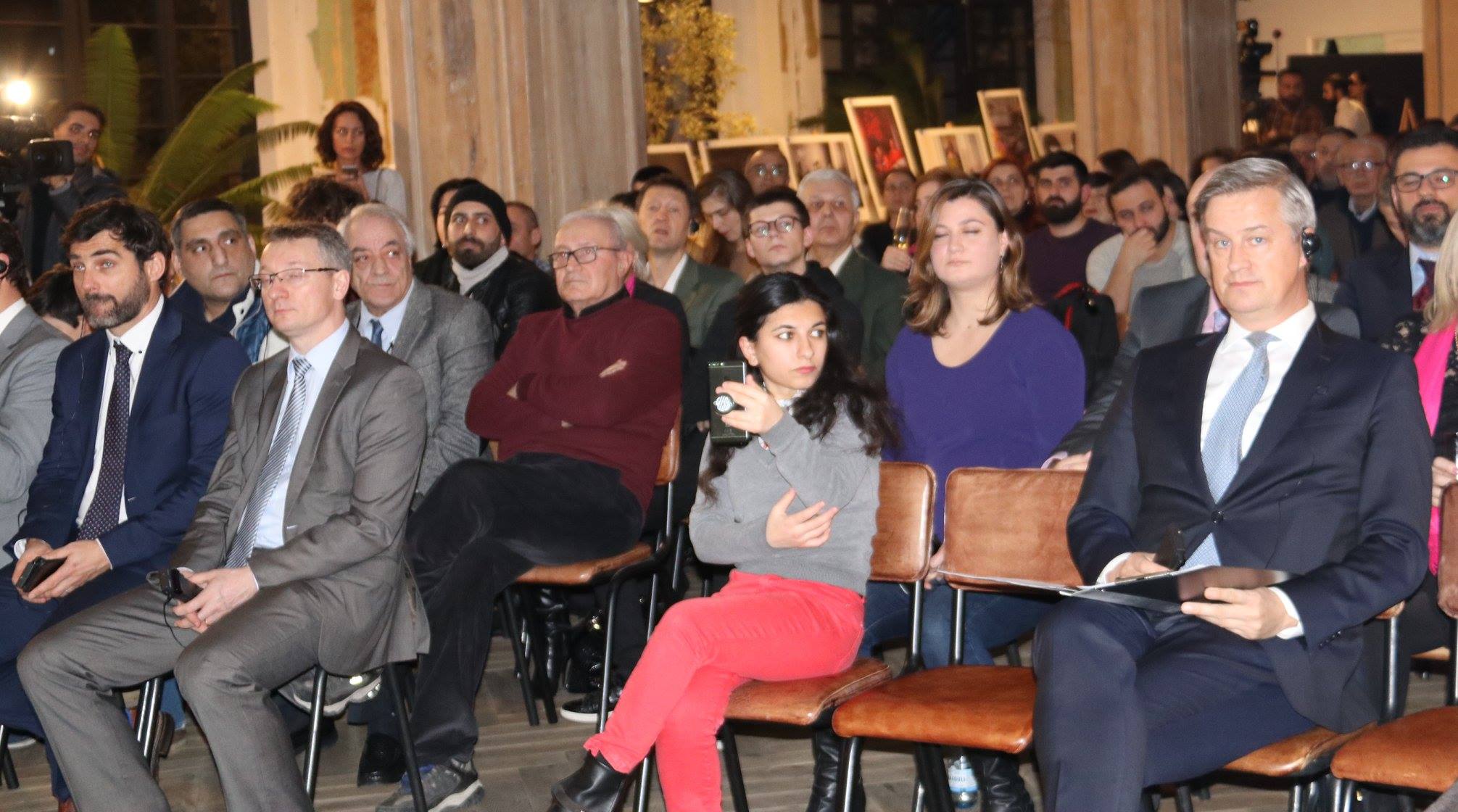 The EUMM 'Special Prize for Peace Journalism' was introduced in 2013 and is one of the most important categories in the overall 'EU Prize for Journalism'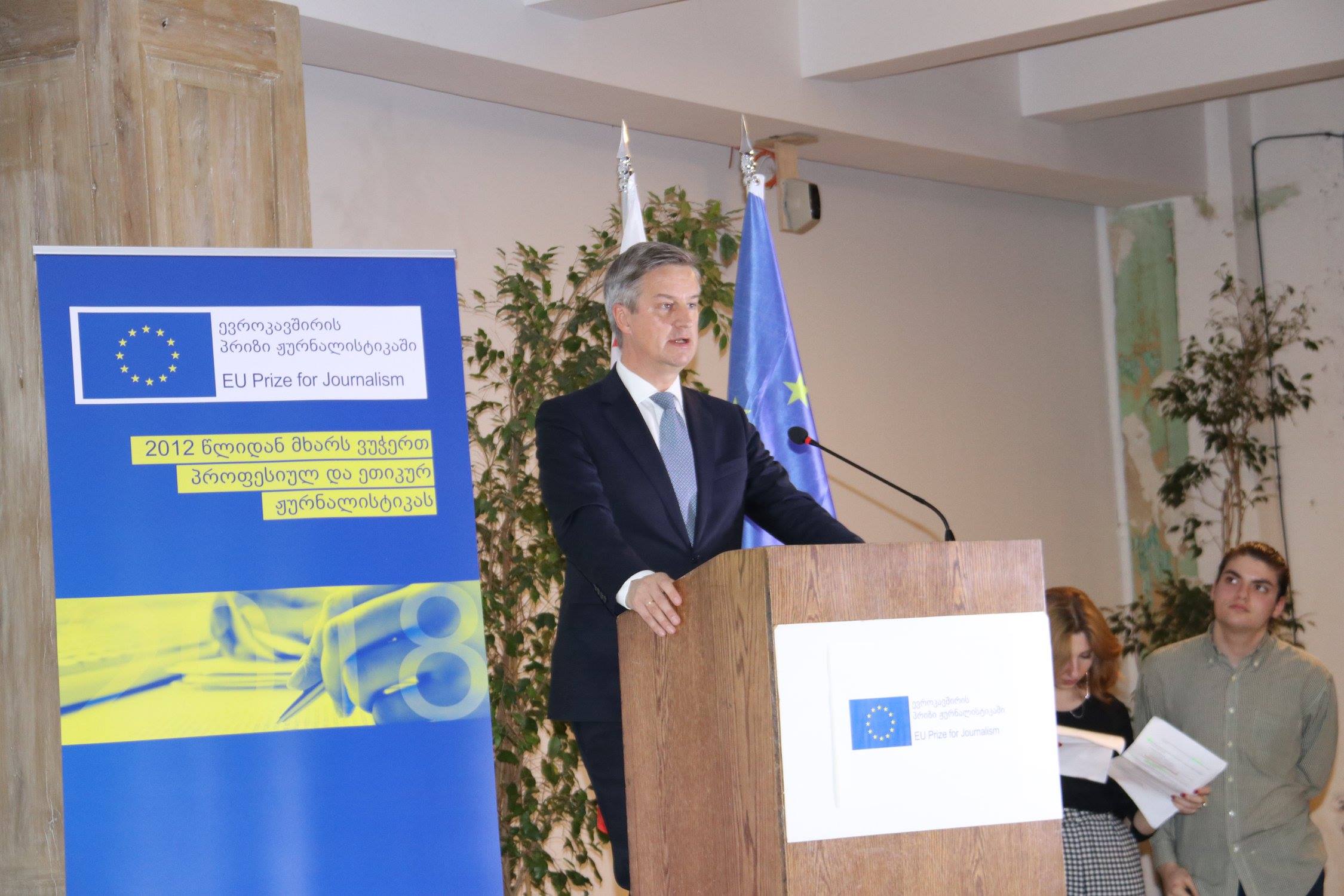 Head of Mission addresses the audience and names the finalists of t

he EUMM

'Special Prize for Peace Journalism'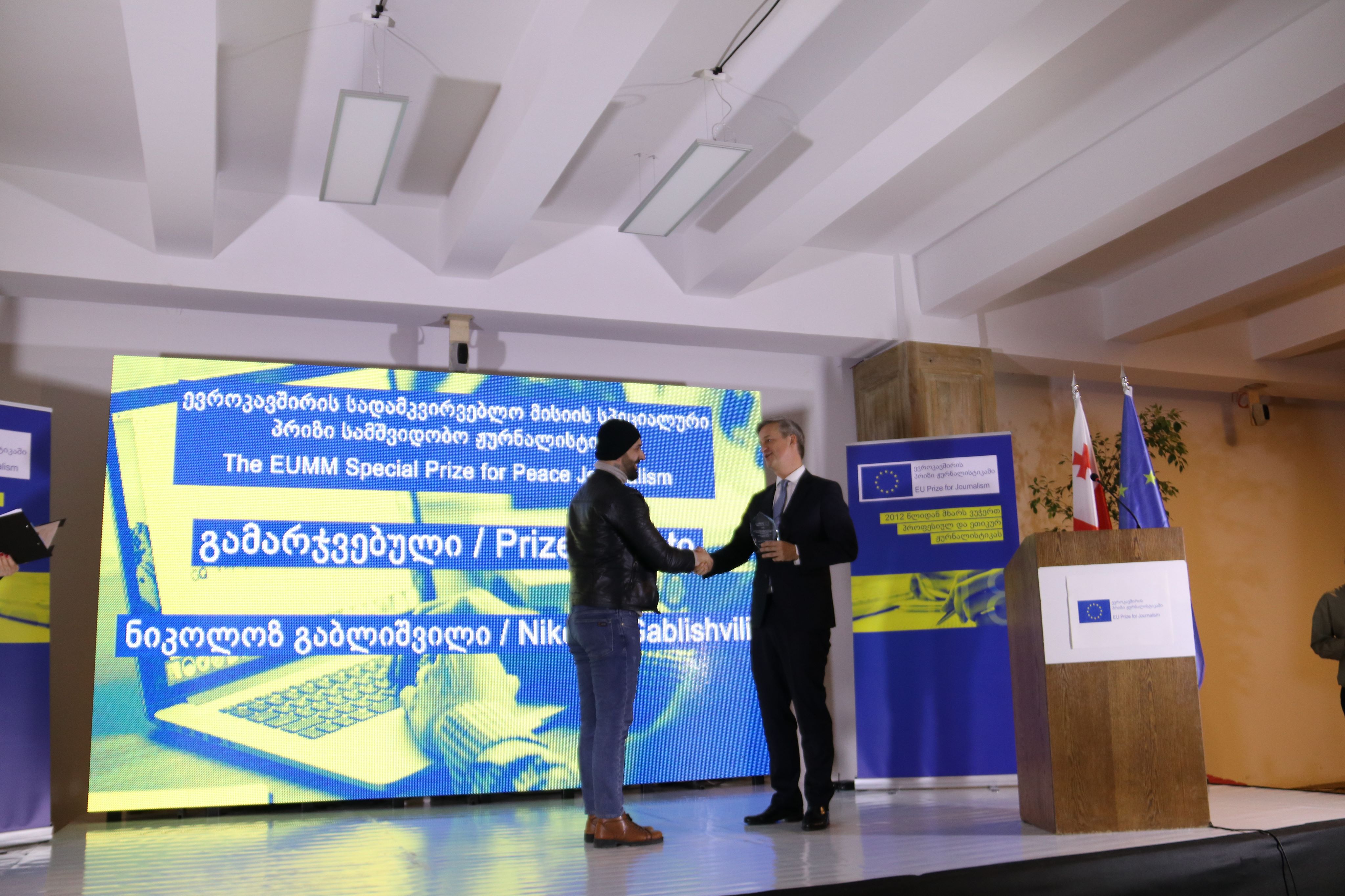 The winner,

Nika Gablishvili was invited to the stage to receive the prize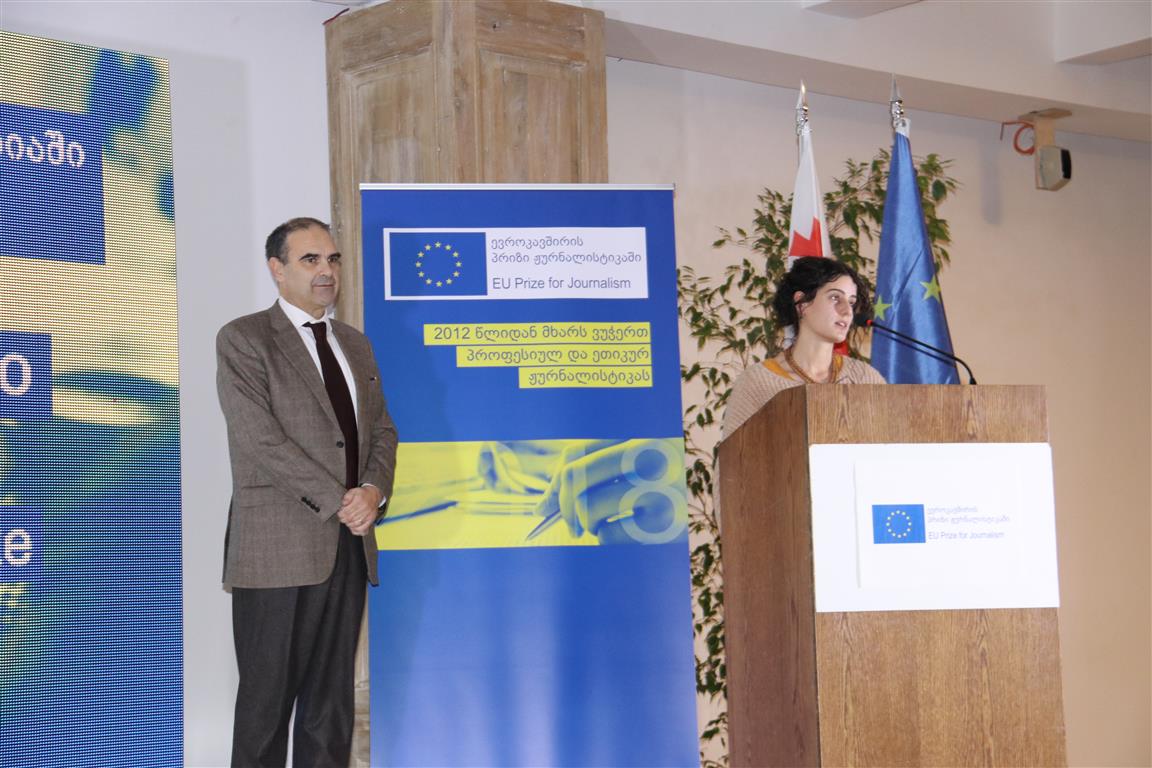 Deputy Head of EU Delegation in Georgia, Carlo Natale announced Mariam Abesadze as the winner for the Best story in print or online media category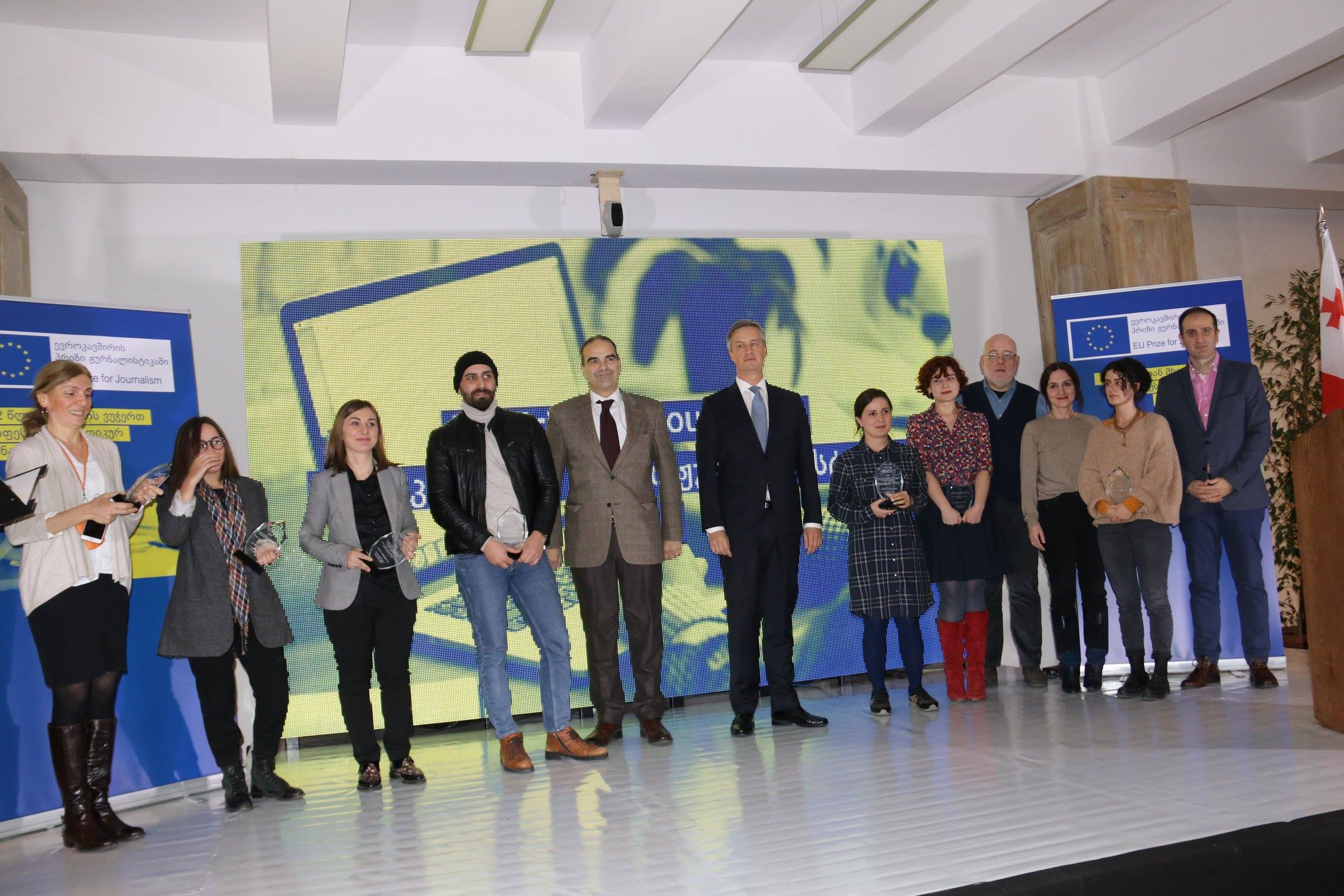 A group photo with all participants at the end of the event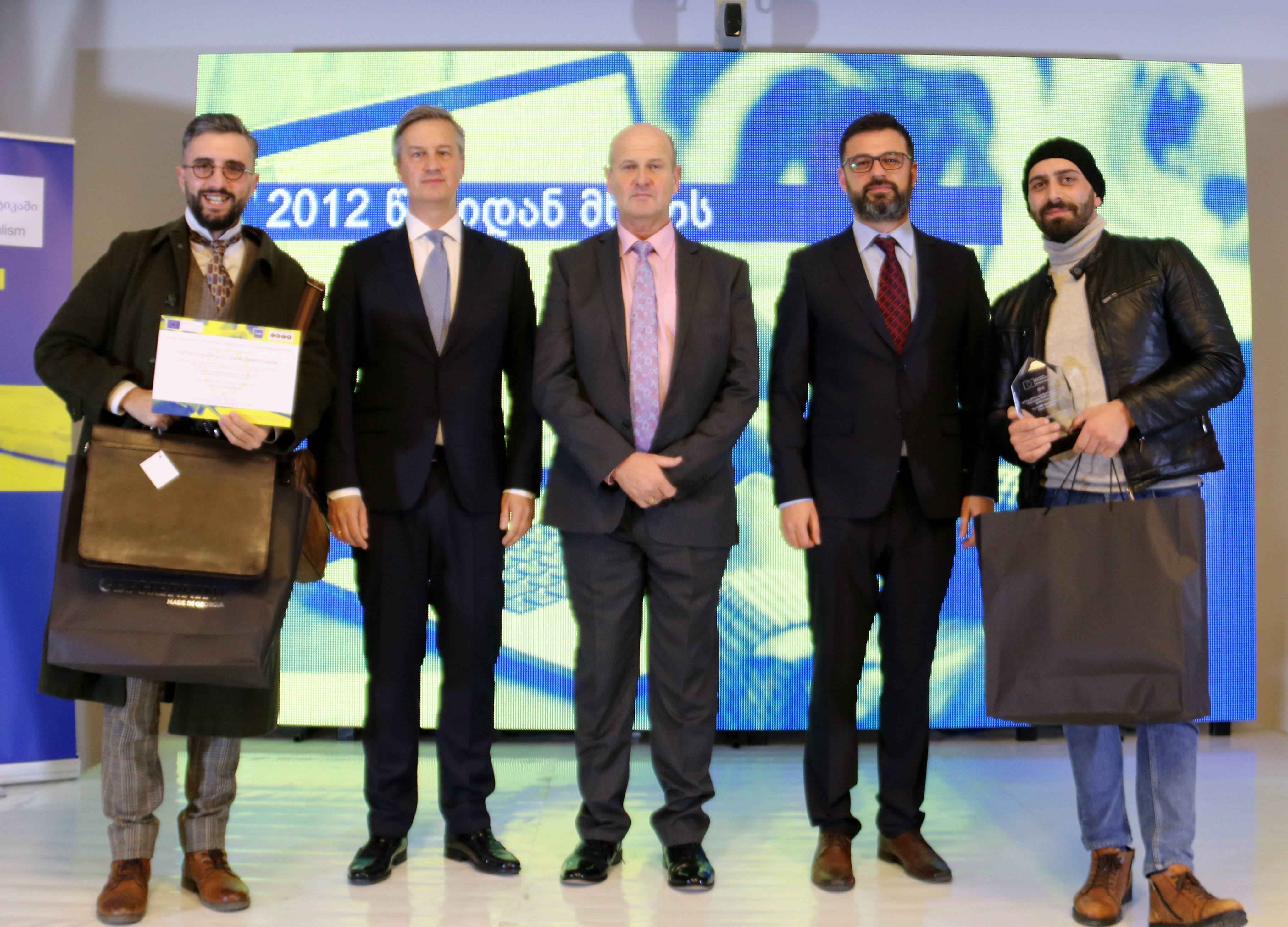 From left to right: Zurab Balanchivadze, one of the finalists of the

EUMM

'Special Prize for Peace Journalism,

, Erik Høeg, Head of EUMM, Des Doyle, the Mission Spokesperson, Beka Bajelidze,

Institute for War and Peace Reporting (IWPR) Caucasus Regional Director, Nika Gablishvili, the winner of the prize